21 years of Bakery Hill: Past, Present and Future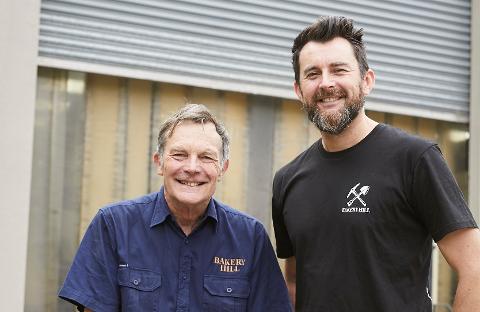 Duration: 90 Minutes (approx.)
Location: Melbourne, VIC
Product code: PWF0CD
Join Andrew and David Baker of Bakery Hill, their new distillery ops assistant, Ted Nilsson, and Miranda Lidgerwood your Whisky & Alement events co-ordinator on May 19 as we look both back through the liquid and forward into the future with a lineup spanning over two decades of distilling.
Andrew and David Baker have been kind enough to open up their archive, while at the same time, pulling samples from cask for us of whiskies that are next up for release. Get an exclusive first look inside the new Kensington site, and be among the first to get your hands on the reinvigorated, newly designed Bakery Hill bottles.
What a journey it has been for Bakery Hill distillery, 21 years old, about to expand into a new site, and with freshly designed labels to commemorate the new era. Bakery Hill was established in Victoria in the year 1999/2000, to prove a point - that great single malt whiskies could be made outside of Scotland, specifically in Australia. Since that time, they have sat comfortably at the table with the world best, and remained a pillar of the Australian distilling community.
Join the Bakers in tasting a lineup that spans 21 years, and a celebration of what is to come.
"In planning a tasting event with the amazing crew at Whisky & Alement we were reminded that we are clocking up 21 years in the Australian whisky business. There was really no other venue more appropriate for us to celebrate our "Coming of Age". Whisky & Alement have not only been a wonderful supporter of our distillery over the last 10 years, but have supported the entire craft whisky movement in Australia. A big Happy Anniversary to Brooke, Julian and the entire team for this admirable achievement."
David & Andrew Baker
On tasting:
A NOD TO THE PAST
Bakery Hill 2004 Convention Bottling Double Wood, (1st release). Distilled late 1999 or early 2000 - 40% RRP $460/500ml
Bakery Hill Cask #106 "A Wisp of Smoke." Distilled 2008 bottled 2016 - 51.7% RRP $260/500ml
BAKERY HILL 2021
Bakery Hill Classic Malt Cask Strength - NEW LABEL - 60% Bottles will be available for takeaway, RRP $215/500ml
Bakery Hill Little French Pete. Distilled 2007 Bottled 2021 - 48% RRP $390/500ml
TO KENSINGTON AND BEYOND!
Bakery Hill single malt, sherry finish matured in american oak, followed by ex-sherry barrel (barrel swap with Chiefs Son distillery) - abv TBC
Bakery Hill Mystery, extended aged 10+ years. Future release! abv TBC
"To celebrate we are looking back at some very old and historic releases (including our very first release), as well looking forward to exciting developments including our upcoming distillery relocation - and previewing what whiskies are coming through the pipelines in the coming years. This will be a unique opportunity to taste how Bakery Hill spirits have developed and refined since way back in 1999."
Bar Snacks included
Picture does not reflect the lineup, it is a glimpse of Bakery Hill bottles through the years.
When & Where:

At the bar! Doors open at 6.30pm for a 7pm start, located at Whisky & Alement, 270 Russell Street Melbourne.
Waiting list:

If tickets sell out we recommend joining the waiting list. If we receive enough interest for a second event, another event date will be opened up on Thursday May 20 at 7:00pm.
How do I change my booking date?
We'll be happy to change your booking date provided you contact us more than 14 days prior to your original booking date. To change your booking date, please email info@whiskyandale.com.au with the following information and our team will contact you within 5 business days:
~ Booking reference (beginning with 'R')
~ Booking name (not attendees name)
~ New class dates (see 'Whisky Classes' via our website for a list of available dates)
~ please note, change of dates are available for classes only, not events. Most events are not repeated and therefore are unable to be changed.
Cancellations
No returns, refunds, cancellations or exchanges on any tickets or tasting packs. If you're unable to attend a class or event, we recommend nominating a friend or family member to take your place! No notification is required for change of attendees name, simply quote the booking name on arrival.
Last minute cancellation due to exceptional circumstances
We understand that unexpected events can pop up at the last minute. In the case you are unable to make a class or event and are unable to give 14 days notice prior to your original booking date, please follow the details below:
~ Illness: In the case that the participant is unable to attend due to an illness, please email a medical certificate and your booking reference (beginning with 'R') to info@whiskyandale.com.au by no later than 12pm on the day of your class or event booking. Our team will be in touch within 5 working days. All booking cancellations in the case of illness will be offered a full refund or change of booking date minus booking fees and administration fee of $15 per person.
~ Family emergency: In the case of a family emergency, please email your booking reference (beginning with 'R') and emergency details to info@whiskyandale.com.au no later than 12pm on the day of your class or event booking. All booking cancellations in the case of a family emergency will be offered a full refund minus booking fees and administration fee of $15 per person.
Age Restrictions
All participants must be over the legal age of 18 years in order to participate and consume alcohol.
Disabled Access
Please note that the tasting room is located on level 1 and accessible only via a single staircase. If you are unable to climb stairs, it may be possible to move the tasting to a wheelchair accessible venue located on the ground level. Please email info@whiskyandale.com.au to confirm if disabled access is available before booking.
Privacy Policy
By purchasing a ticket to an event, you acknowledge that the event may be filmed or photographed and give consent for the film or photographs to be published on any platform by Whisky & Alement or by any other entity used for promotion. Films and photographs may be used occasionally for other marketing purposes.
Gift vouchers
Gift vouchers cannot be exchanged for cash or any other product.